Northern Rail,
Customer Information System.
Northern Rail plays a vital role in the North of England by connecting tens of thousands of people to work, leisure, education and more. Its trains call at 528 stations, about a quarter of all stations in the country; of these stations, 476 are operated by Northern Rail. KeTech was awarded this project as it is the top provider of intelligent, scalable real-time systems.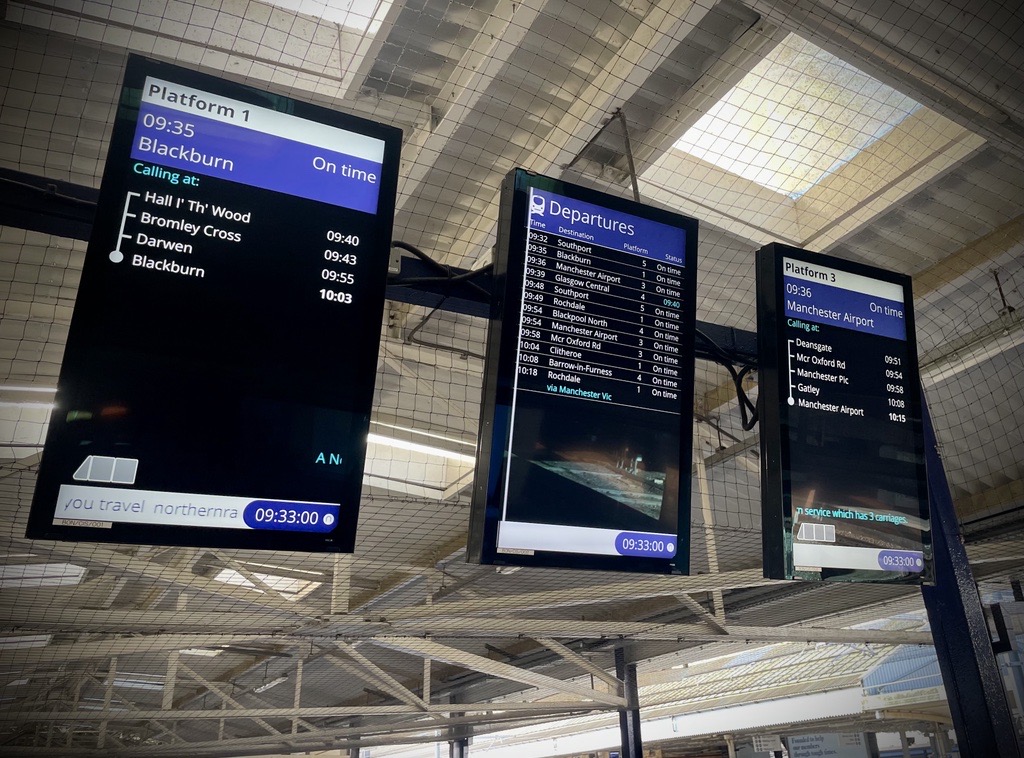 Challenge
Northern Rail originally had two separate CIS systems from KeTech and Worldline – supporting 400+ stations and their customers. The decision was made to phase out the existing Worldline system and seamlessly scale the KeTech CIS to 100% of stations across the estate. Key to the transformation was the ability for KeTech's CIS to drive existing hardware at stations, avoiding unnecessary change and cost. This enabled Northern Rail to rationalise the associated support contracts, including a single service desk with one set of SLAs.
KeTech's ability to deliver and integrate CIS across all stations enabled Northern Rail to centrally manage and centrally control their capabilities and customer experience. This eliminated the need for duplicate resources and, to a degree, confusion/discrete training across two different systems – especially when a TOC needs to update software and/or request support. Ultimately increasing ease of use, eliminating delay, and most importantly delivering the desired cost saving.
As you would expect, different suppliers meant separate product development plans – ultimately leading to a lack of consistency for Northern Rail and its CIS operators. A fully managed, phased approach to delivering KeTech's CIS across all stations ensured uniformity of journey information and the very best customer experience for Northern Rail and its customers.
Implementation
Northern Rail had over 400 stations with mixed hardware and software solutions, KeTech used stage migration for minimum risk of impact. Our client made the decision to keep the existing hardware on all the stations, KeTech's software is scalable and flexible and therefore had no issues integrating the CIS into the existing hardware, lowering the cost for our client.
Additionally, we enhanced our CIS system in order to improve operator functionality and system control. Which is particularly important when controlling a large number of stations. Following the implementation of CIS, we worked hand in hand with Northern Rail to tailor features and cater to their customers wants and needs.
Results Delivered
Enhanced features and options to customise content.
Newly developed/upgraded CIS to benefit the TOC.
Developed with the TOC, for the customer.
Cost effective.
Regular, on-going engagement with our client regarding new requirements and further refinements.
Timely enhancements.
Support throughout project implementation, on completion and beyond.
What we do
Our team of data experts, software developers and digital railway specialists cross collaborate everyday to develop and deliver intelligent real-time information systems, creating seamless end-to-end journeys.

Get in touch with us
If you can't find what you're looking for or you would like some more information on our products and services, click the button below. We'd love to hear from you!