LNER,
Passenger Information System.
The following details how KeTech designed, supplied and configured a real-time, dynamic and 'connected' Keinform500 system, consisting of a Wayside Control System and Train-borne Hardware to its clients London North Eastern Railways for use on their Intercity 225 train fleets. The Keinform500 system is based on KeTech's extensive, proven capability and experience in managing real-time data feeds and dynamic communications between the wayside and train, to deliver best-in-class real-time travel information throughout the journey.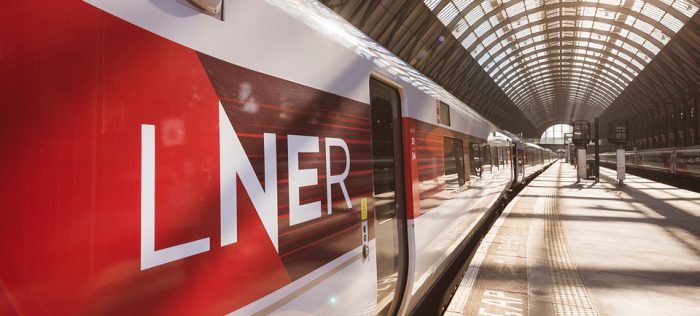 Challenge
KeTech was awarded a contract by the Intercity 225 Train Operator London North Eastern Railways (LNER) to design, develop and deliver an integrated real-time passenger information solution, including new hardware, software and on-going support. The requirements were to upgrade and enhance the existing system. The project comprised Requirements Workshops and Capture, Concept Design, Detailed Design, Factory Acceptance Tests (FAT) Integration, Site Acceptance Tests (SAT) and Dynamic Testing.
The proposal was based very much on the solution provided to Hull Trains and work started initially with Virgin Trains East Coast (VTEC). Go-ahead was given to make a trial on 1 trainset, with a view to expanding to the full fleet of 30 once proven. The contract was awarded to KeTech, whose role was to deliver a software and hardware (21.5″ HD TFT screens) solution to provide dynamic real-time information. This involved all-party workshops to agree how the system should behave for LNER services, layout, corporate graphics, etc. Delivery was planned to allow installation of the hardware onboard during routine maintenance KeTech ability to interface with multiple stakeholders was essential to ensure we delivered LNERS needs and expectations in terms of product and support for installation. This project is a perfect example of how KeTech works constantly to identify new ways to improve efficiency, accuracy and functionality. Since the initial deployment new features have been identified and implemented including further multimodal travel information. KeTech is committed to ensuring the system adjusts to the current and future needs of the TOC. With the bulk of processing done of the wayside, this can be done by introduction of new feeds and additional data processing /configuration packages, which can be thoroughly tested
before deployment.
All hardware and software were supplied by KeTech. The screens were manufactured to our exacting specifications and once delivered to us loaded with the necessary software. After a full soak test to prove the reliability of hardware and software, the screens were delivered to the customer for installation, requiring just power, an ethernet connection and fixing points. KeTech provided initial support with installation as required.
Implementation
Lead-time was approximately 4 months from order to first in class, and further delivery was scheduled to meet with the customer's needs.
KeTech supported commissioning of the system. Full training was provided for the operators in the form of train-the-trainer, and an ongoing support package agreed. Service Obligations under support package are: Software: System operational within 24 hours, with a fix in 10 days. Hardware: 20-day return to base. All relevant and current railways standards were conformed to in the delivery of this project including TSI-PRM and PIDD. KeTech works with the ORR, DIT, Transport Focus in the UK to help develop future standards in addition to ensuring current standards are conformed to.
Results Delivered
A fully scalable , resilient, future proof, and modular system, supporting industry compliance such as PIDD and PRM TSI.
Real-time data integration delivers meaningful passenger information as standard.
Proven , positive customer experience that's directly attributable to increased National Rail Passenger Survey (NRPS) scores (Hull Trains achieved a 7% increase during the first 18-24 months of operation).
Consistent and relevant journey information – meeting the Approved Code of Practice for Passenger Information During Disruption requirements.
Service information, journey progress and calling points, in real-time.
Disruption Information – delay time, along with the reasons for any disruption (if set), in real-time.
Supplementary information.
Automated 'Delay Repay' notices displayed when a service is late by a defined
threshold (currently 30 minutes).
Dynamic Routing – auto add/removal of stations when service is re-routed or altered
Centralised, intuitive management and control.
Enabling updates to on-board corporate notices/promotions/adverts remotely.
Integration to train GPS location data (via onboard router) to further enhance message triggering.
Clear, consistent, relevant, and concise journey-specific information delivered in real-time – for the benefit of everyone (included as standard , unless indicated otherwise).
Easy to interpret journey information presented on any display size, ensuring customers have better informed journeys.
Dynamic information prioritised specifically for departure, arrival and disruption.
Service information, journey progress and calling points.
Next station departures, onward train travel times and platforms.
Supplementary information; weather, news, and corporate information.
Find out more
Every journey is different, that's why KeTech's Passenger Information System tailors the information and infotainment shown on every route to ensure a truly seamless experience.
Passenger Information System

Get in touch with us
If you can't find what you're looking for or you would like some more information on our products and services, click the button below. We'd love to hear from you!